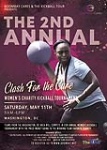 Clash for the Cure Women's Kickball Tournament
Saturday, May 11, 2019 Walker Mill Park - 8001 Walker Mill Rd. Capital Heights, MD "Cash prize awarded to the winning team favorite charity"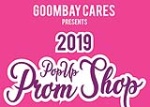 Pop Up Prom Shop 2019
Join Goombay Cares as we assist local teens with their prom styling needs with gently used prom dresses, suits and accessories for their prom at no cost. In order to meet our goal and provide this kind of Dream Prom shopping experience, we rely on the generosity of individuals and businesses for support. Without the assistance of the community-minded individuals like you, we would not be able to serve those in the community each year. DONATIONS If you wish to donate to this event, you may do so by dropping off a used prom dress or suite to the designated drop off sites on the day and times listed below. You may also make a cash donation through the Eventbrite link below or you may send a cash donation through CashApp at $GoombayCares. DROP OFF LOCATIONS: Infuse Restaurant and Lounge | 6339 Allentown Road, Temple Hills, MD 20748 February 23rd | 11am - 2pm March 16th | 12pm - 3pm April 16th | 10am to 2pm - Pick up day We are also accepting gift cards from local business to assist our teens with preparing for their Prom. If you are a vendor and wish to partner with us on this event, please contact Akua Assata at (301) 440-0641 TEENS You must be a high school senior in the Washington, DC metro area to participate. All students or their parents must register at the link below by April 1st. DIRECT LINK https://www.eventbrite.com/e/goombay-cares-prom-pop-up-shop-tickets-55989795987 For more details contact Akua at (301)440-0641.